Virtual Gastric Band Training
Virtual Gastric Band Intensive Practitioner Training With Brian Watson
Would you Like More High Paying Clients in 2014?
Are you Based in The North of England?
Train as a Virtual Gastric Band Therapist in the Only Programme in the World to Have Undergone Clinical Trials!**
Book and Pay Before 28th February and Claim Your £45 Early Bird Discount!
Book and Pay Before 28th February and Claim Your £45 Early Bird Discount!
Limited Spaces Available...
We are Only Accepting 30 Students Maximum for the April Course and will not be Running This Again Until September.
The Total Weight Loss of Clients on This Programme so Far is in Excess Of 61, 000lbs! That's the Combined Weight of 10 Asian Elephants!
You too can Help Your Clients Lose Weight With:

* A 95% Success Rate*
* A New Outlook & Attitude to Food & Eating
* No Surgery
* No Dieting
* Fully Scripted Support CD
* Support Sheets / Handouts (Provided)
If you are Based in the North of England and Would Like to Fast Track onto the World's Best Virtual Gastric Band Programme and Become a Qualified Practitioner in Just 2 Intensive Days Then Click Here and Book Before February 28th for Your Early Bird £45 Saving.
Want to Know More? Read on....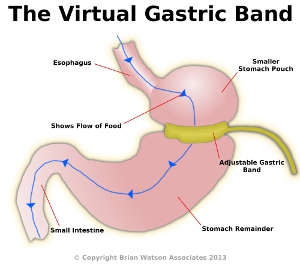 The virtual gastric band programme is now a high profile therapy and receiving a lot of positive press attention, now is the time to add this powerful technique to your professional practice.
While there are many virtual gastric band training programmes out there, this boasts a 95% success rate and is the only programme to have undergone clinical trials.
With 2 days intensive training you will be in a position to provide a solution to the worldwide obesity epidemic for your clients with a programme which is currently under clinical study with hull university and hull york medical school.
Weight loss solutions will always be in demand, even in a recession and are many therapists "bread & butter" because clients will always find the money for it.
This 2 day intensive course covers all aspects of weight management (not just the virtual gastric band aspect), including the 8 golden rules your clients will find simple, easy and stress free to follow which will help to ensure their success and bring about realistic, lasting and measurable changes, improving not only their body image but also way of life and self esteem.

The Certified 2 Day Intensive Virtual Gastric Band Practitioner Training Includes:

* Practitioner Course Certification
* Manual of the Techniques Involved
* Scripts for all Four Virtual Gastric Band Sessions
* Mp3 Recordings to Support the Programme
* Live Demo's Conducted on a Client
* Information and Direction on how to Market Your Services
* A "How To Build A Successful Practice" Manual

Course Dates
Dates: Saturday 19th – Sunday 20th April 2014
Duration: 2 Full Days Intensive Training
Times: 10am-5pm Daily
Location: Doncaster (Town Centre Venue To Be Confirmed)
Price: Price for the Intensive 2 Day Course, Notes, Scripts & MP3 Files if Booked AFTER February 28th is £440. If Booked and Paid for BEFORE February 28th is £395
Complete the form below to claim your £45 discount and your place on the course.°
*Results based on 2 UK trials. The first trial saw 24 out of 25 candidates
lose an astounding 190lb in 5 weeks. This result attracted the attention of
a General Practitioner in Beverley, East Yorkshire England and a second
trial was conducted with 12 of his patients who had been removed from the
bariatric surgery waiting list on the UK's National Health Services (NHS)
list. Again 95% of the group experienced a positive result.
**Clinical Trials Carried out at Hull University and Hull & York Medical School
° First come, first served basis and subject to numbers.